SEALCOATING
Sealing your driveway not only improves the look and feel, but also extends the life of the underlying asphalt. Sealing allows for greater flexibility by trapping the oils in the asphalt and preventing oxidation. This protects the asphalt base from erosion and deterioration, while also decreasing the chance of cracking under pressure as seen below.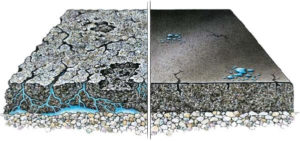 Our product is specifically designed utilizing Tarmax additives to provide a more durable resistant deep-black finish. This will help protect your driveway through the changing seasons in Massachusetts.
CRACK FILLING
Repairing cracks in your driveway or parking lot is essential for proper maintenance of your asphalt. Cracks in asphalt cause moisture to build up beneath the surface causing severe damage during the thawing and freezing cycles by widening and expanding.
Given the freeze/thaw cycles we have in New England, the soils beneath can move and expand to levels where even the best crack fillers can fail to some degree. Nonetheless, filling cracks is essential and undoubtedly stems the tide of deterioration and is an important part of proper preparation. Sealing, however, will outlive crack filling.
In addition, it is important to note that finer surface cracks are often difficult to eliminate. Most often these cracks are not doing any harm to the driveway. Our main focus is on structural cracks that are doing harm to the driveway. These type of cracks are always filled.
The team at Weston Home Sealcoating ensures that all necessary prep work such as debris removal and brushing are completed prior to filling cracks. We do this in combination with utilizing the most effective materials in the industry to guarantee the best possible result when filling a crack in your asphalt.
POTHOLE REPAIR
Potholes are more than just a nuisance, they can potentially cause serious damage to vehicles and your entire driveway. From the freeze-thaw cycles, to snow plows, and even harsh rain – there are many causes of potholes. It is important to have them fixed – fast!
It is important to understand that by filling a pothole and/or by sealing we will not be able to level a driveway. Sealing will not change the grade of the driveway in any way. Because there is substantial thickness to sealer, sealing will not create nor eliminate any puddling of water. It is impossible to level out a shallow area of pooling water. Sealer is distributed evenly throughout the driveway.
Leaving a pothole open can lead to extensive damage and expensive repairs later. Our team will fix and fill the holes right the first time. If you have potholes in your driveway, do not hesitate, call us today and get them fixed!
PAVEMENT MARKING & LINE STRIPING
Regardless of whether you're refining an existing layout or just need a fresh coat of lines, our team can make quick work of your line striping needs!
DRIVEWAY CLEANING
AND PRESSURE WASHING
Power washing can be a critical preparation process before sealing problematic driveways. As the seasons change, debris like sand, dirt, algae, tree sap, or moss can prevent good adhesion of sealcoat and must be removed prior to applying a sealer. We recommend a thorough power washing of driveways where the previous sealcoat malfunctioned or when the contaminants are at a substantial level, and we provide this service as needed.
BRICK, BLOCK, AND MISC
POWER WASHING
Brick and block structures develop surface mold, mildew, and dirt over time. A deep power washing will have your brick walkway, block walls, and any other similar surface looking brand new in minutes!
Power washing isn't exclusive to brick and block. Concrete pool surrounds, decks, and patios can also be cleaned by adapting the pressure of a washer. The team at Weston Home Sealcoating has the expertise to do the job right!
GUTTER CLEANING
If your gutters are clogged, you run the risk of overflow and possibly damaging the ground below the gutter. Our team can get your gutters clear of all debris quickly, efficiently, and correctly. Ensuring that your gutter system is allowed to flow properly!
SNOW REMOVAL
Snow removal is a time-consuming task, and that's putting it lightly. Why not let our team handle the headache for you? We monitor the winter weather closely to provide timely and appropriate measures for removal of snow.
PROTECT YOUR INVESTMENT
The harsh winters of New England can really take their toll on your driveway. Call us today to get your driveway repaired, power-washed, and protected.